Your eyeglasses are inevitably your true friend as an eye correction measure but you can't deny its impact on your image which is mostly menacing. Sometimes you are struggling to style your makeup in a way that it compliments your spectacle frames while sometimes your makeup gets concealed behind the thick glasses' frames or lenses despite all your styling efforts. However, all of the problems that come with glasses for women don't change the fact that we do go weak at the knees on seeing a girl wearing a fabulous pair of glasses.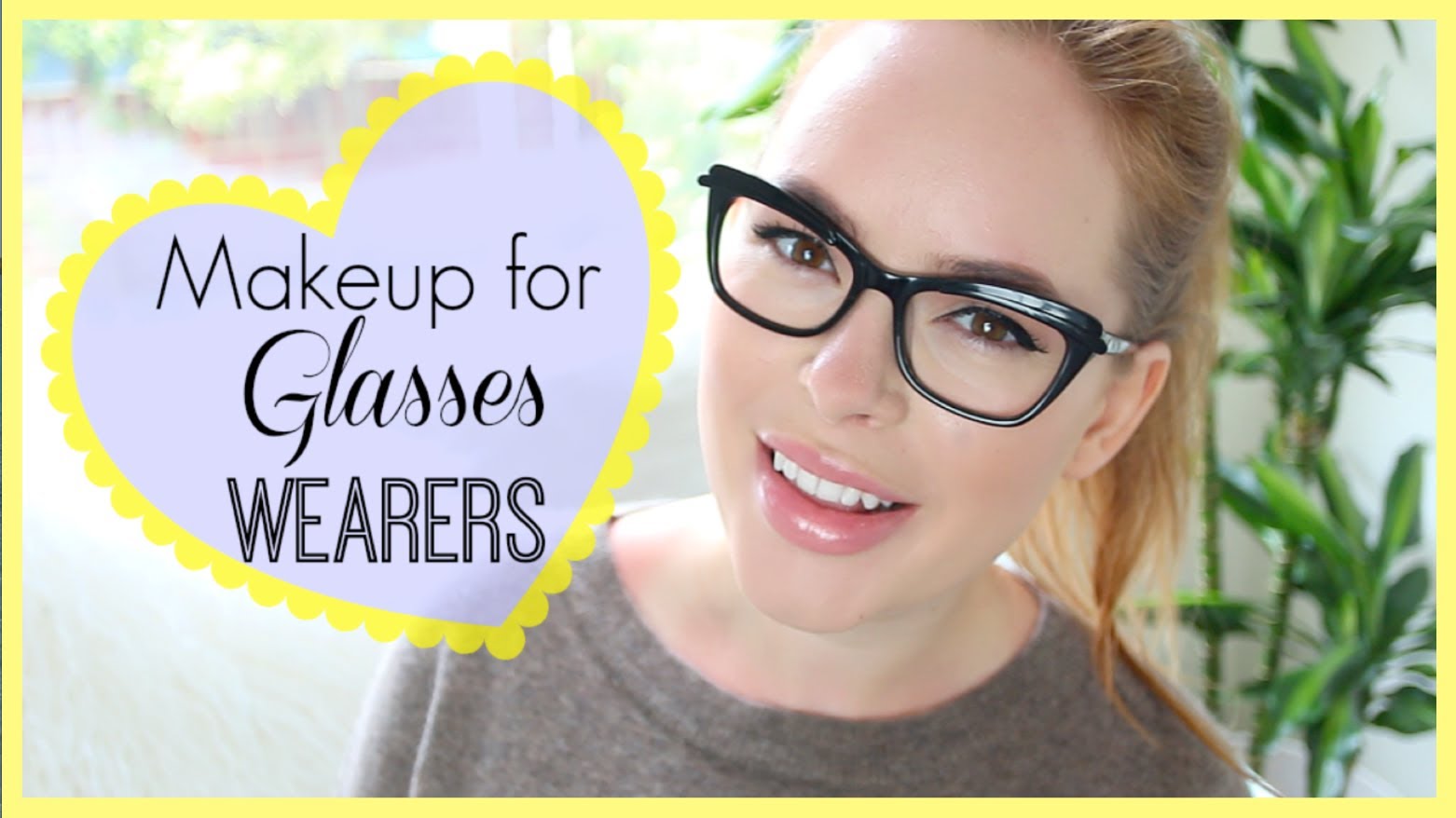 Despite the cool contact lenses, wearing a pair of great looking glasses terrifically add variety to one's disposition. Whether you're headed to the office or the dance floor, an experiment with various frame styles along with certain makeup techniques can create the pitch-perfect look you covet. Hence, let go of your worries if you feel victimized of your eyeglasses. With a list of few trendy makeup tricks mentioned below you can cake walk on making your features stand out from even behind your glass lens and frames, looking your oomphy best.
Makeup Tricks for Eyeglasses Wearers
1. Eye Make-up : Spectacle frames often cause shadowy eyes in certain light conditions. Herein, contouring is a technique that counteracts this by highlighting your eyes and freshening your appearance. You can contour your eyes by blending a foundation of a lighter tone in your under-eyes area and the down-centre area of your nose.
2. To give a natural and beautifully alert look to your eyes, use a nude liner in the bottom water line of your eyes. In case of an eye allergy when your eyes are all red and scratchy, apply some Visine in there and then use the liner. This is a magical little trick to deal with the shadowy eye problem mentioned above.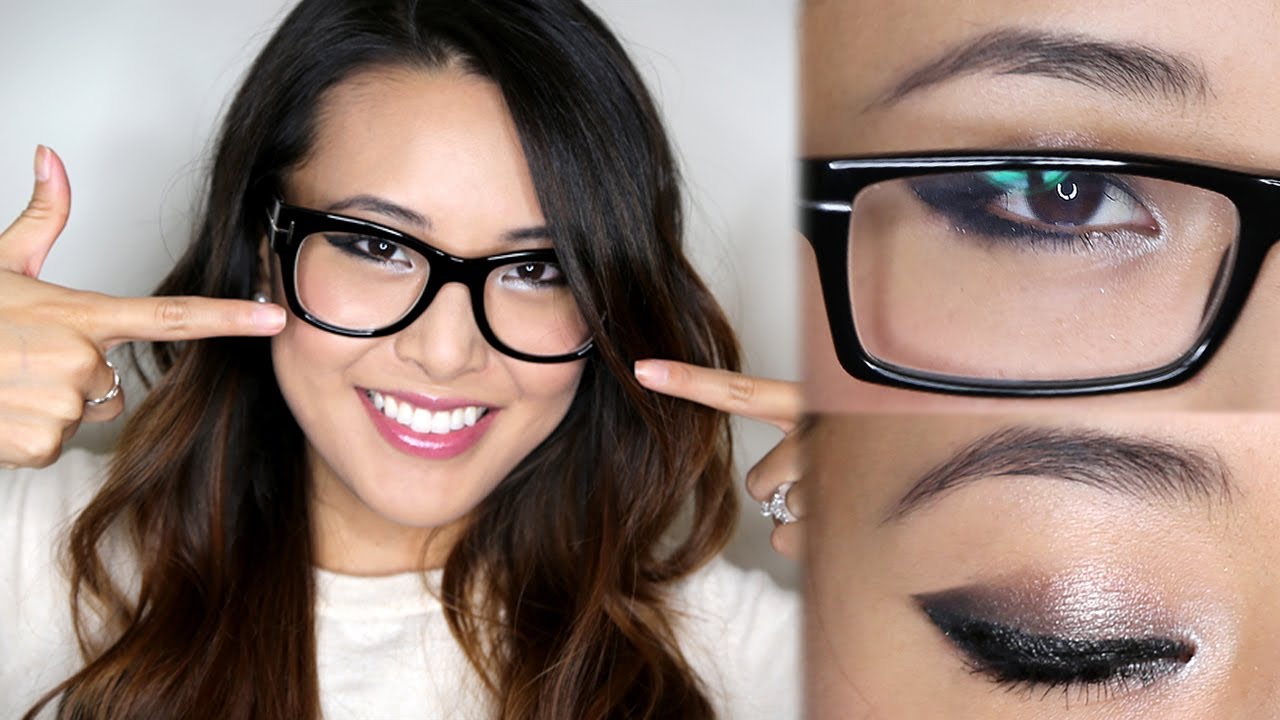 3. To get a little shimmery effect on the lower inside corners of your eyes, tap your forefinger in a pretty pearl-shaded(pink, cream, beige) highlighter and dab it closer to the bottom of your eyelids in the lower inside corners of your eyes. Some single products give dual benefits of providing a concealer on one side and a highlighter on the other.
4. Be directly proportional about the frames you wear and the complimenting eyeliner patterns. Take your eyeliner up by a few octaves when wearing thick horn-rimmed or big hipster spectacles to prevent your pretty liner from getting lost. On the contrary, step down your eyeliner if wearing dainty wireless or very thin spectacles to prevent your dramatic liquid lined cat eye from overpowering the specs.
5. Highlighting Facial Features: If you loved contouring your eyes, try taking another step forward to highlight the other key facial features by fully contouring your face. To do this, bronze the top of your forehead, your cheek bones and the either side of your nose. Be cautious of blending the bronzer and highlighting foundation entirely with the natural-coloured face makeup you are using.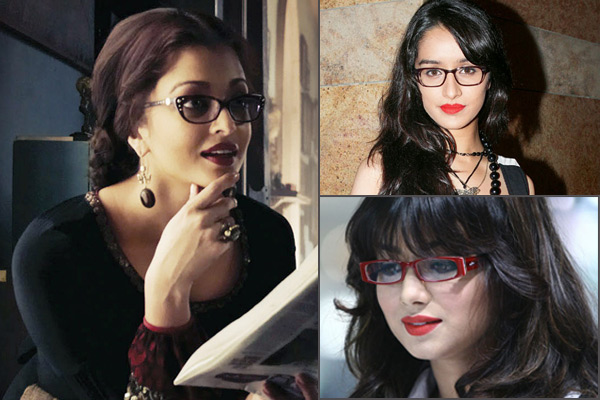 6. Go Subtle: A very important makeup rule to remember, irrespective of you being spectacled or not, is to prevent overdoing highlights. That is, highlight your eyes or your lips one at a time and not both together. Spare the bold shimmering lips and go for a transparent gloss or a slightly tinted lip balm instead, if you have a show-stopping eyeglass and a gorgeously dramatic eye shadow on. Or else, skip dramatizing your eyes and opt for thin eyeliner, light mascara and a fun, bright-coloured lipstick which forms a very cute look with vintage-style glasses.
7. Glasses don't replace the beauty of a glowing skin. Thus, apply a suede-finish foundation or a BB or CC cream at the least to get a evenly flawless looking skin. A sweep of a rosy blush to the apples of your cheeks is the magical finishing touch.
8. There should be no competition of attracting attention between the colour of your eye shadow and your eyeglasses. If the use of a colour similar to the colour of the frame is desired on the eyelids, a base hue of a lighter shade with few darker shades for the crease should be tried. Next, it should be finished with a black liner and mascara.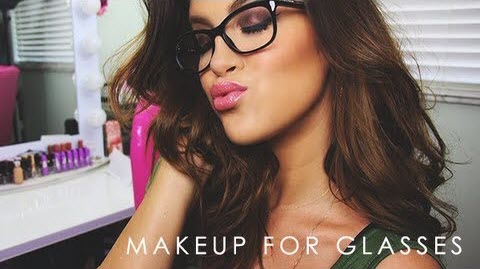 9. When the colours of your hair, lips and glass frames are all bold and confident, opt for a simple eye makeup.
10. Eyebrows inevitably frame the face so shaping them especially if you wear specs, is a must.
Precautions with Eyeglasses Makeup
Applying makeup brings along some responsibilities to bear that is to remove it completely before going to bed. This prevents the risks of eye irritations or eye infections in extreme conditions. Particularly, the mascara should be cleaned in details from both the top and bottom of the eyelids. Replacing the eye makeup at least once, every three months, is a must.
Abstain from sharing makeup. When trying products at stores, use new sponges and persist the salespeople on cleaning the container openings with alcohol prior to their application on your skin.
Unless a product comes with an instruction label to add liquid to it, do not do so.
Discard any makeup that undergoes any colour change or begins to smell.
When not in use, keep the makeup containers closed tightly.
Abstain from cosmetics, if suffering an eye infection like conjunctivitis (pink eye). If the problem was discovered while using the particular makeup, discard it at once.
Image Credits: i.ytimg.com