If you are a worried parent in search of the right pair of eyeglasses for your kid, you know that walking into an optical store can be very confusing. There is no shortage of kids' spectacle frames. Depending on the degree of visual corrections necessary, the eye doctor will prescribe glasses for full- or part-time wear. Many kids will be instructed to take their eyeglasses off for schoolwork while others need to have them on every waking moment. Many times the eye doctor will make specific recommendations about suitable spectacle frames; but more often the decision is left up to you, your kid and the optical dispenser who fits the glasses.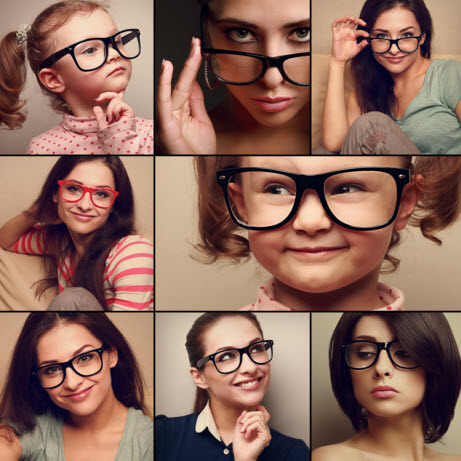 Important Tips for Buying Kids Eyeglasses Online
Children age 4-9 often like colorful, bright frames associated with cartoon or Disney characters. Children age 10-12 are typically more influenced by TV, Internet, celebrities, sports figures, and music when choosing frames. Here are 6 items to consider to make your trip to optical shop an enjoyable experience and to ensure that you get kids eyeglass frames that will endure.
Fashion Forward
Whether they are part-or full-time eyeglass wearers, most children get at least a little teasing about their specs, especially first time they wear them. So it is very important that they avoid spectacle frames that make them look "uncool." You should steer your child away from spectacle frames that are too expensive, objectionable or inappropriate.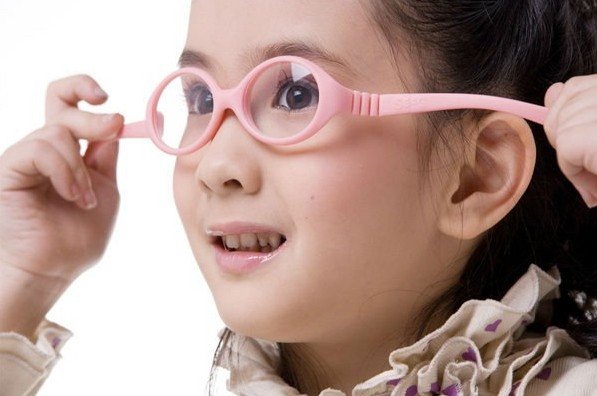 Just keep in the mind that the real object is to get your kid to wear the prescription eyeglasses. Extra enticement can be found in ultra cool features like photochromic lenses with tints that darken outdoors; that can help inspire any child to want to wear glasses.
Lens Thickness
The eyeglass prescription is the primary consideration in choosing glasses. Before you commence looking for the frames, consult with optician about lens considerations. If kids' eyeglasses prescription calls for strong lenses that are likely to be thick, it is important to keep kids eyeglasses frames as small as possible to decrease the final lens thickness. Smaller lenses tend to have fewer higher-order aberrations near the edge of the lens than large lenses of the same materials and prescription, so there is less risk of distorted or blurred peripheral vision.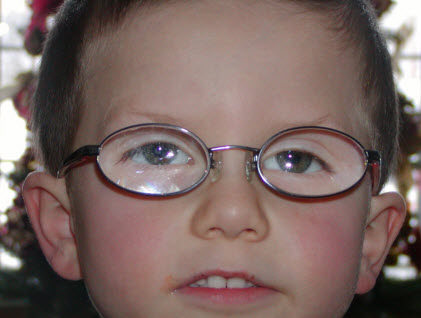 Proper Bridge Fit
One of the most difficult parts about choosing suitable spectacle frames for the kid is that their noses are not completely developed, so they don't have a bridge to prevent plastic frames from sliding down. Metal frames, however, are made with adjustable nose pads, so they fit everyone's bridge. Many manufacturers recognize this difficulty with plastic frames and make the bridges to fit small noses. If any gap exists between the bridge of the nose and the bridge of the frame, the weight of the lenses will cause glasses to slide, no matter how well frame seems to fit before lenses are made.
It is important that glasses stay in the place; otherwise kids tend to look over the top of the lenses instead of pushing the glasses back up where they belong. An optician is the best judge of whether a frame fits properly.
Plastic or Metal
Kids eyeglasses frames are made of either metal or plastic. Double bridges are found on boys' frames while spectacle frames with single bridges are either unisex or strictly for girls. Many manufacturers copy adult styles for kid's eyeglasses frames. Children can be easily attracted to these styles as they look more grown-up. It is not unusual for kids to ask for glasses that look like Mom's or Dad's.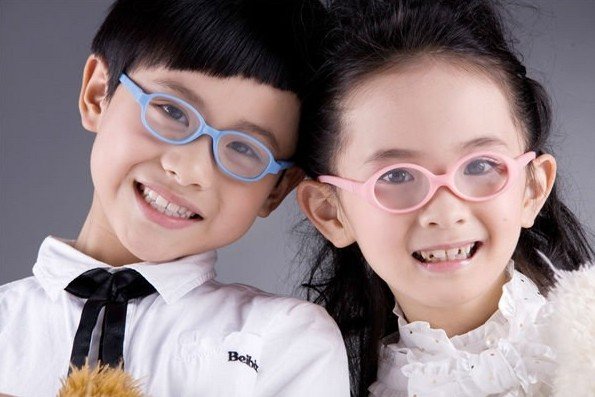 In the past, plastic frames were the better choice for kids because they were considered more durable, less likely to be broken or bent, lighter in weight and less expensive. But now, manufacturers are making metal frames that incorporate the features as well. Metal composition varies, so positively ask the optician which one is best for your kid, based on experience with different alloys.
Ask for hypoallergenic materials if your small child has shown sensitivity to various substances. For example, some people are allergic to frame alloys that contain nickel.
Spring Hinges
A nice feature to look for is the temples with spring hinges. These special hinges allow temples to flex outward, away from frames, without causing any damage. Children are not careful when they put on and take off glasses, and spring hinges can help prevent the needs for frequent adjustments and costly repairs.
The Right Temple Style
Temples that wrap all the way around back of ear help keep glasses from sliding down or dropping off a kid's face completely. These wrap around temples, called, "cable temples," are available on metal frames and are especially helpful to keep glasses in place on toddlers.
To reduce costs, ask your optician if lenses in your child's previous glasses can be tinted to transform them into sunglasses. You can buy eyeglasses online from online eyewear stores like Lenspick at a reasonable price.
Image Credits: girltalktv.com, hz01.i.aliimg.com, toddlerglasses.files.wordpress.com, marveloptics.com