If you are a daily user of contact lenses, the term 'multi-purpose lens solution' or 'complete contact lens solution' might be familiar to you. This is one of the cleaning equipment used to take expert care of your contacts and is necessary to keep them comfortable, provide clarity of vision and most importantly, protect from eye infections.All complete contact lens solution is made considering the wearer's convenience and comfort. Many products contain everything you may need in a single bottle, nevertheless, several solutions may not be well-suited for your lens and not every solution is safe for cleaning your lenses.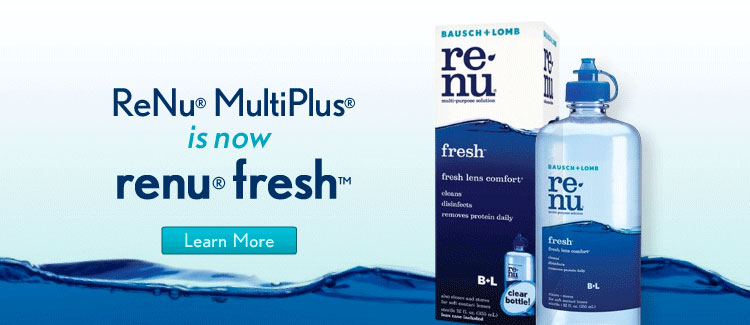 Renu lens solution comes with the purpose of rejuvenation, giving you the feel of putting on a new pair of contacts every day. Renu Fresh is a multi-purpose solution for a refreshing clean-up, and presents a cushioning sense of comfort while wearing the contacts.Use for basic cleaning, rinsing, sterilizing and storing your lenses, and for removing protein accumulation when used daily.
Features & Benefits of Bausch & Lomb Contact Lenses
Renu Fresh from Bausch & Lomb contact lens solution:
Gently cleanses, washes and disinfects the delicate lenses and is also a storage medium when lenses are not in use
Has Dymed, Poloxamine and Hydranate for effective cleaning and providing maximum comfort while wearing lenses
Comes in a sturdy and recyclable bottle and carton
What's more, Bausch and Lomb contact lenses are now available in their web store, and your decision to buy contact lenses online and save time won't be an expensive bargain: the contact lenses price stays the same as market value, whether you buy it via net banking or credit card.
Why must you use Renu Fresh for your eyes?
Do not try out and test any random bran, as different solutions may not be suitable for your lenses and could also be unsafe. Stick to a regular cleaning or sterilizing plan and lens-wearing regimen and make scheduled appointments with your optician, and consult with them if you have any doubts pertaining to lens care.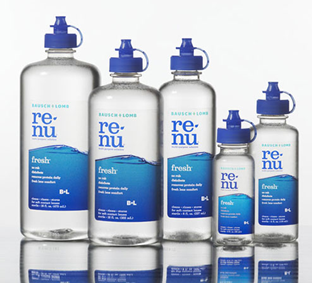 Since your eyes are sensitive, your lens solution must be the same. Renu multi-purpose solution's sensitive nature is designed to be as mild as the natural tears but scientifically enriched to kill germs. The special formula is:
Gentle, yet potent
Made of lesser, simpler ingredients
Gives efficient disinfection
Softly rubs the lenses while cleaning to rinse off possibly irritating particles
How to Clean Your Contact Lenses?
The rub and rinse method is the most ideal and simplest way to go about cleaning the lenses, and is akin to washing one's hands. A small amount of the contact lens solution is poured on the lens held in one palm of the hand, and with the index finger of the other hand, the lens is cleaned by rubbing the liquid over its surface for five to ten seconds. The process is then repeated on the other surface. Then, a continuous stream of the complete lens solution is sprayed on both sides of the lens to eradicate any last traces of debris still sticking to the lens. This procedure removes more bacteria, deposits and any surplus deposits from the lens surface, and leads to improved hygiene and safety. Properly follow all instructions given in the label of the lens care product.
Cleans, rinse and air-dry the lens case every time you remove the lenses from it. Flip it over while drying in order for surplus solution in the case, if any, to ease out. This is necessary as leftover solution could make the case a harbor for bacterial growth. Replace the lens case every three to six months.
Improper use of the lenses and lens solution can cause eye infections, and bacterial as well as fungal infections, and, if untreated, can result in grave consequences like permanent loss of eyesight. Bacterial infections are far more common than fungal ones, though fungal infections are much more complicated to detect, diagnose and cure. This is because the fungus slowly multiplies within the corneal region and greatly opposes treatment.
Failure to empty the solution out of the lens case after every use can cost your eyesight. The leftover solution after a disinfection cycle is "dirty" and filled with dead germs and microscopic debris. It does not have the same initial potency as that of fresh solution. It has little disinfecting material to kill bacteria effectively and other microbes and may further contaminate your lenses, increasing chances of contracting serious eye infections.
Precautions for Healthy Usage of Contact Lenses
Do not, in any case, use a lens solution that has passed the expiry or discarding date.
Do not "top-off" the leftover solution remaining in the case. Never attempt to reuse the solution. Always throw away the remainder liquid after each use.
Do not let your lenses come in contact with any type of water: tap water, distilled, bottled, lake water, ocean water etc. Do not use non-sterilized water, which includes any homemade saline solution. Washing of lenses with water leads to Acanthamoeba keratitis, an infection of the cornea, which till now has no proper method of treatment.
Do not in any case use saliva to wet the lenses, as saliva is not a pure or sterile solution.
Do not attempt to pour the solution into a smaller travel-size container. This could hamper the sterility of the solution and cause irritation or infection. This can also lead to a mix-up and the user could accidentally end up using a solution not meant for the lenses or eyes.