Sunglasses are an accessory that not just compliment our personal but also protect us from the hazardous rays of sun, dust, and heat. They are born for driving, biking, safeguarding and simply for the style. They act as a trendsetter and make us look stylish and on the other hand, acts as a shield allowing us to travel comfortably in scorching summer days. There is an array of sunglasses types that are now trending in the market including cat-eye, wayfarer, club masters, rectangle, square, aviators, butterfly and round.
Buying sunglasses is not that easy as a particular sunglass may look good on you and it might not suite your friend that much. You should always determine the shape and size of your face and then choose the glasses that best fit your face. It is essential to procure sunglasses that suit your face because that would enhance your personality and give you a pleasing experience.
If you are planning to buy sunglasses for yourself, then our list will definitely assist you in picking the right one for you. We have compiled our list of top 5 sunglasses types to look out for in 2017.
Lenspick offers flat 85% off on Sunglasses, click here to buy!
1.Round Frame Sunglasses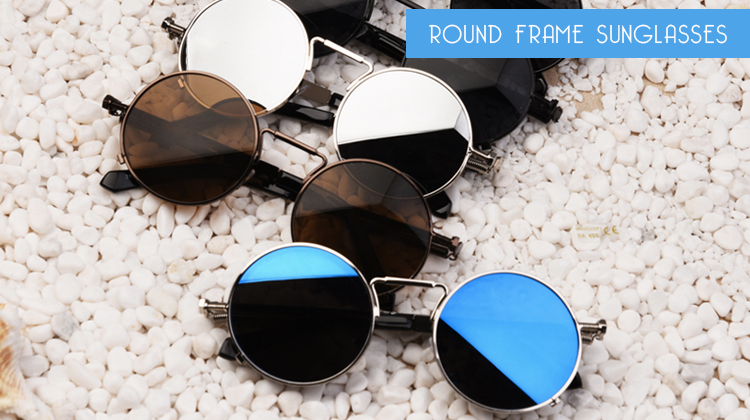 Round framed sunglasses are a trendsetter for 2017. They were in vogue in the 1920's and 1930's and a lot of men preferred to adorn them by using the frame in that era. This was an era of transformation where the sunglasses were not just used for safeguarding but they were also used as establishing a fashion statement. In this era, there were advancements in technologies that made the eyewear accessible and alluring.
Round framed sunglasses are known to give you a quirky and vintage look. The sunglasses are highly versatile and you can complete almost any kind of look ranging from casual to formal using this kind of frame. The sunglasses do not occupy your entire face, and thus they highlight your facial features providing you with a generous and decent look. They are ideal for different occasions especially when you want to impress someone special. It suits diamond, round and rectangle faces.
2. Wayfarer Sunglasses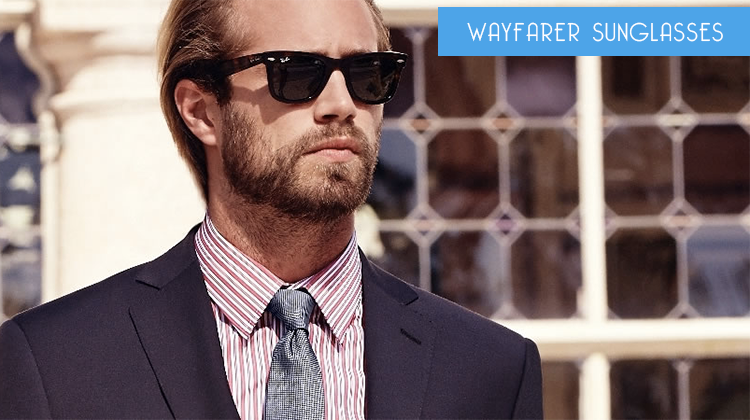 Wayfarer sunglasses were introduced by the iconic brand Ray Ban in the 1950's. They emerged with aesthetic design bringing in a revolution in the market of sunglasses. They have flattered many fashionable men and now it is the most famous sunglasses type in the market. Wayfarer glasses have a broad upper rim and go out to a point. They were introduced as sunglasses that had a black rim to match the dark lens. They have a very popular history, and after a few years of ambiguity, they have emerged again as the most desirable pair of sunglasses for every man. The style is quite popular and now found in almost any shape and size. Wayfarers have been making waves since few years and many celebrities and well-known names use it to enhance their look. It gives you a retro appearance and you can team it up with faintly colored lens for a perfect look.
Wayfarers suit almost all face types. So whether you have oval, heart-shaped, round or diamond-shaped face, you can go for it. Wayfarers are quite handy and you can wear the sunglasses to complement your casual, and it looks great with spring and summer look.
3. Aviator Sunglasses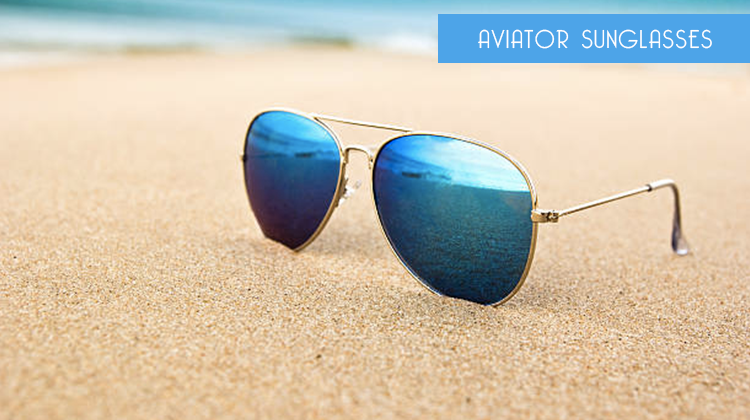 Aviator style of sunglasses was first developed by Bausch and Lomb. Aviator sunglasses give you a manly look and establish a fashion statement for you. They are characterized by dark, reflective lenses. They occupy twice or thrice times the area of your eyeball and have very thin frames with the double or triple bridge also referred to as bullet hole. They have an interesting history; they were developed in 1936 especially for the pilots so that they could use it while flying. The name aviator is also derived from its usage as pilot's glasses.
It is a trending style of the year and you may spot your favorite actor wearing it quite often. It is popularly known as 'sunglasses for the valiant' and many of army, navy and air force officers wear this kind of sunglasses. Aviators suit well with a beard as well as clean look. It is the most versatile sunglasses as it looks fabulous with all types of faces, be it round, triangular, square, heart-shaped or oval.
4. Club masters Sunglasses
Club masters sunglasses are another type of chic sunglasses that have precision in its design. The glasses are also known as 'browline' as the bold upper parts of the frame encircle the lenses in such a way as the eyebrow frames your eyes. It gives you a contemporary and retro look and it is renowned for bringing a unique perspective on the eyewear market. The sunglasses are so designed that the upper frame is thicker laying emphasis on your natural eyebrow line.
The sunglasses make you look attractive and trendy. It looks best with the oval, long and rectangular type of face. These sunglasses give a masculine look and ooze your sex appeal.
5. Mirrored Sunglasses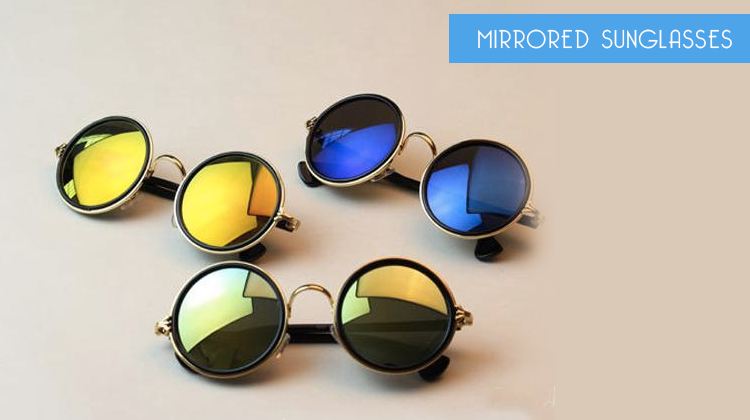 Mirrored sunglasses are fashionable to such an extent that it will make you the center of attraction wherever you'll thread. They are different from other styles of sunglasses by the fact that they are reflective and the populace around you can employ it as a moving mirror. It looks fantastic when you capture it in a photograph and is definitely attention-grabbing.
This type of sunglasses is a statement maker and it will compliment your look. It emanates a baffling yet confident personality. Mirrored sunglasses come is different radiating hues that are attractive. It is especially recommended for a man who wants to show that he means business. This type of sunglasses comes in different shapes and sizes and you can customize it on the basis of your need and purpose. The sunglasses can titivate any kind of face be it round, oval, square, diamond shaped or heart-shaped. It is a stylish type of sunglasses that compliments your casual look and it is ideal for a party look. It is so reflective that it serves as excellent sunglasses for biking.