Owing to recent fashion trends and the change in how people perceive fashion, contact lenses are on the rise. People have become more conscious about what they wear, the brands they opt and the accessories they choose. Glasses, on the other hand, are seen as obstacles to a person's look, rather than a fashion accomplice, irrespective of the fact that some glasses are vision correction ones. Now-a-days, most of the people prefer the hassle-free contact lenses of Bausch and Lomb rather than glasses. The Bausch and Lomb contact lens are colored, fashionable contact lens designed for all types of eyes. These are provided with high quality and affordable prices. Wear these contact lenses and look at the world with a colored expression.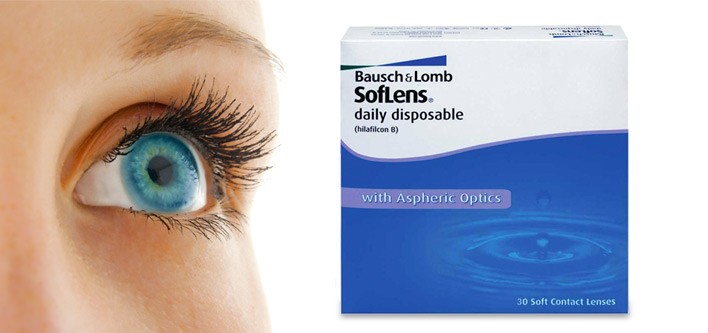 Vision Corrections with Bausch and Lomb Contact Lenses
A contact lens is a hydrophilic disc that floats on the cornea of the eye. Contact lenses are significantly shaped to focus light into the retina of the eye and better fit into the eyes. Bausch and Lomb provides us gas permeable and soft contact lenses with exclusive options for every type of vision correction and lifestyle. Critical vision problems, such as short-sightedness, long-sightedness, astigmatism or presbyopia occur when either of the eye or the cornea is not perfectly shaped. So these vision problems can be rectified by using Bausch and Lomb Contact lenses.
Short-sightedness (Myopia): It is a common eye condition in which the distant objects appears blurred, while close objects can be seen clearly. It can be easily corrected by refocusing the light rays onto the retina of the eye using PureVision2 HD Contact lenses that penetrates the clear, crisp vision. These contact lenses are designed to reduce halos and glare even in low light.
Longsightedness (Hyperopia): During this condition, the eye becomes too short, in which the light focuses behind the retina. So that the people with this problem have to focus more than they should do. This vision problem can be solved by wearing the best Bausch and Lomb Contact Lenses.
Astigmatism: It is a common vision problem that occurs when a person's cornea is not symmetrical. A normal cornea is round like a baseball. While the cornea with astigmatism curves more severely like a rugby ball. The appearances of the objects both near and far become blurred or distorted. So PureVision 2 HD for Astigmatism and Soflens Toric for Astigmatism lenses were designed specially to meet vision correction needs of the people with astigmatism.
Presbyopia: It is a common aged related vision problem. During this condition the crystalline lens in the eye hardens and loses elasticity. Due to loss of flexibility, your eyes are unable to adjust properly to focus near objects. Multi-focal contact lenses including Bausch and Lomb Purevision and Soflens Multifocal Contact Lenses can correct presbyopia and makes your eyes see comfortably at all distances.
Benefits of various Bausch and Lomb Contact Lenses
Bausch and Lomb contact lenses have an ever-increasing variety of lenses along with contact lens solutions that enhances the vision impairments. Know the benefits and choose the best contact lenses that help you in vision correction.
Soflens Daily Disposable Contact Lenses
SofLens daily disposable contact lenses help to reduce the appearance of blurriness, halos, and glare across a wide range of conditions.
Daily cleaning, storage, or care in not required.
Utmost comfort with crisp, clear vision, especially at night.
The contact lens solution creates a cushion of moisture around the lenses and keeps your eyes comfortable throughout the day.
SofLens 59 Bausch & Lomb Contact Lenses
SofLens59 lenses are made from a protein resistant material called Hilafilcon B polymer.
Bausch and Lomb SofLens59 contact lenses impacts clear vision, excellent performance, longevity, comfort and visual acuity.
Time-tested, easy to handle and deposit resistant material with excellent comfort.
Bausch and Lomb Contact Lens Multipurpose Solutions like Bio true multipurpose solution and renu fresh were included.
PureVision2 HD Bausch & Lomb Contact Lenses
PureVision2 HD contact lenses with High Definition Optics were designed to reduce halos and glare.
Comfort Moist Technology focused with clear, crisp vision for outstanding comfort and breathability.
Designed using thin lens and is easy to handle.
Provided with High Oxygen Transmission for bright and healthy eyes.
Iconnect Bausch & Lomb Contact Lenses
This type of Bausch and Lomb Contact Lenses were designed specifically keeping the youth in mind.
These lenses are suitable to all personalities.
It is very easy to handle and comfortable to use.
Provided with monthly disposable modality.
You can get these hygienic contact lenses at reasonable prices.
The insertion and removal system that accompany these contact lenses make them extremely easy to use. These are available in affordable prices in the market and are thus available to the common man. By knowing the best Bausch and Lomb Contact lenses and their benefits, now everyone can choose easily and buy Bausch and Lomb Contact lenses online in India.
Image Credits: pics1.ds-static.com, affordablecontactlenses.net