Astigmatism is a serious vision distortion condition, which is marked by blurred vision and occurs if the cornea is not curved correctly. This state makes many sufferers seek out the help of eye specialist prescribed lenses. Soflens Toric contact lenses are a specialized lens manufactured by Bausch and Lomb, especially for people suffering from astigmatism. With the discovery of toric contact lenses, rectifying astigmatism condition has become an easier task for optical technicians. These toric lenses are designed in a consistent way to correct total vision issues and provide sharper vision compared to other lenses. Are you an astigmatic patient? Do you know that it may be caused by an irregular-shaped lens and can be corrected by sophisticated contact lenses? Well! Check out the Bausch and Lomb soflens toric lenses that offer you the potential benefits of correcting vision with a varied focal length and optical power in orientation method. Here is an article that provides the information about types and benefits of Soflens toric contact lenses.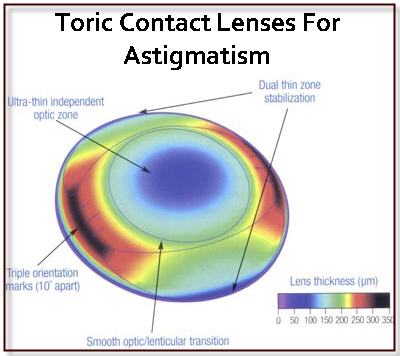 Types of Soflens Toric Contact Lenses for Astigmatism
Toric contact lenses are designed in a geometric shape that usually looks like a slice of donut. They play a dual role in such a way that they remain in a specified position when you blink or look around for better visual acuity. People with corneal, lenticular or combination of both astigmatisms can wear these two types of toric contact lenses.
1. Soflens Daily Disposable Contact Lenses 
SofLens Daily Disposable Toric lenses are the first daily disposable contact lenses for astigmatism that is designed with High Definition Optics technology by Bausch and Lomb. These contact lenses are made of Alphafilcon 'A' material. They provide crisp and clear vision with utmost comfortable wear to the spectacle wearers. These lenses do not require daily cleaning, storage, and care. You can wear them for a day and then dispose away.

2. Bausch and Lomb Soflens Toric Monthly Disposable Lenses
Soflens Toric monthly disposable lenses are used to correct blurry shapes and fuzzy edges of the cornea. These are made of Alphafilcon 'A' Hydrogel material using Breakthrough Form Cast Technology. They are the ultimate remedy for treating astigmatism and provide excellent stable vision throughout your wear. These monthly replacement lenses enhance your eye health. It is very easy to handle these Bausch and Lomb Soflens Toric monthly contact lenses.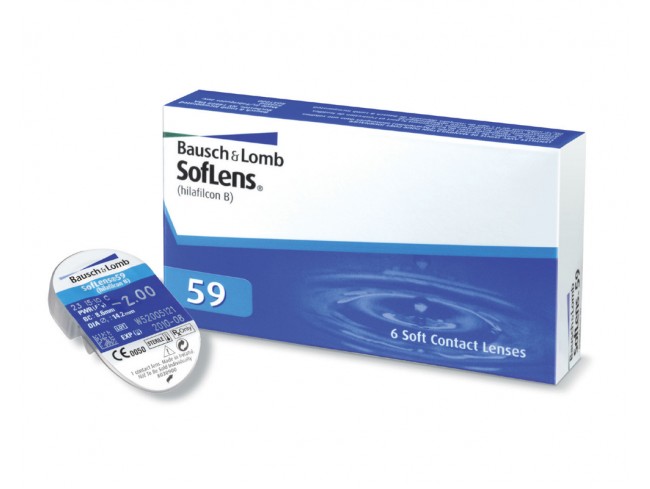 Benefits of Soflens Toric Contact Lenses – Bausch & Lomb
The SofLens Toric Contact Lenses for Astigmatism lens has a unique patented Lo-Torque design that is extremely easy to wear. They are designed based on today's need for the people and the duration of time used for vision correction. Here is a brief list about the benefits of Bausch and Lomb toric contact lenses.
1. Comfort Moist Technology for Full Day Comfort with toric lenses
The reduced mass design and non-ionic material of toric contact lenses retains a wettable surface with proper moisture for outstanding full day comfort and fits accurately on your eyes for a reliable experience.
2. Oxygen permeability
Soflens Toric lenses are made of advanced Form-Cast technology in order to fit in the eye properly and repel unwanted dirt.  Water content that ranges between 42 – 55% allows passage of oxygen in your eyes and ensures a healthy flow of oxygen.
3. Crisp and Clear Vision
The innovative aspheric optics of soflens contact lenses are designed to enhance the retinal vision contrast and significantly reduce spherical aberration across a wide range of lens powers. Thus, they provide stable, crisp, sharper and clear vision to all wearers those who are suffering mainly from Astigmatism.
4. Easy Handling and Convenience
The hilafilcon 'A' polymer material used in toric lenses reduce tearing property. For easy and smooth lens removal, ergonomic blister pack has been designed. This enables the easy handling, comfort and convenient of lenses to the wearers.
5. Protein Buildup
A toric contact lens helps to resist protein buildup so that your eyes stay more relaxed and comfortable throughout the day.
Now it's your right time to go with the better vision contact lenses for astigmatism. Try Soflens Toric contact lenses today and see how a lens works in an excellent way to correct your vision problem. Stay with high value oriented Bausch and Lomb Soflens Toric Contact Lenses that provide impeccable vision, comfort, and convenient lens wear.