Mirrored sunglasses are the essential one-way mirrors that allow the wearers to see out of the glasses while those who are looking at the wearer cannot look in. Such a fantastic sunglass makes a trendy style, especially at outdoor environments. These sunglasses are the most stylish reflective mirror coated or flash coated sunnies that make the lenses appear like small mirrors. The mirror coating effect reduces the quantity of light passing through the tinted lens, especially at certain conditions of sand, snow, water and higher altitude places. And it seems to be the hottest trend of the season. Would you like to pick blue mirror sunglasses online that suits your face? Well! All your desire comes true as these sunglasses are at the forefront line of fashion today. It's a style that looks cool as it can add a touch of glam for anyone. With the blue reflective lenses and huge celebrity follow-up, mirror sunglasses rule the list of the chic styles for hot summer. No doubt these sunglasses are the trend that has been cropping up all over Hollywood and being flaunted by all famous celebrities, especially during summer.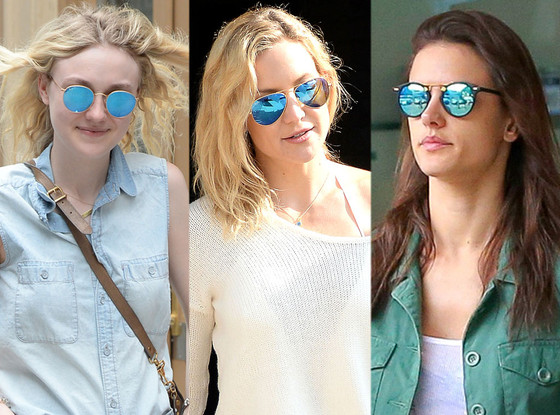 Dashing Popularity of Mirror Sunglasses
Nothing makes you look modish like an on-trend pair of blue mirror sunglasses. These sunglasses were first introduced in the 80's and re-introduced a few years ago. The popularity of mirror sunglasses was primarily set from the police dignitaries in the United States and has gained an elegant name "Cop Shades".  Mirrored sun shades have made a strong comeback on the fashion runway for both men and women. Here the choice is absolutely yours, but a vibrant blue is at its top pick if you want to set a unique trend. It's true that blue makes for one of the most striking colours in pictures and a bold statement for any outfit.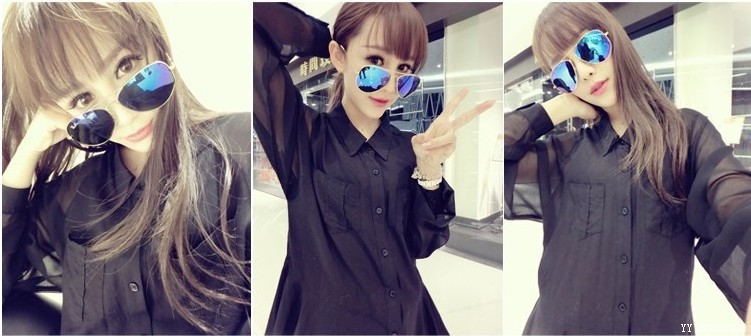 Nowadays, celebrities are opting for round frame mirror sunglasses. These sunnies add that touch of cool flavour to any outfit for any occasion. They are perfect for days at the beach, pool or red carpet events to reflect your hot style. Recently, Hollywood trendsetter, Blake Lively, has sported these blue mirror sunglasses and garnered accolades from the fashion police. From runways to movies, these sunglasses have spread out as a powerful trend and people are crazy to sport these reflective sunnies.
The two most popular styles of mirror sunglasses are aviators and wraparound that covers both eyes and delicate facial areas incredibly. The colour of the mirror coating is determined by the thickness and structure of the mirror layer. High-quality, sophisticated brands such as Ray-Ban, Carrera, Farenheit, Velocity, Oakley, Fastrack, Tommy Hilfiger, Fabula and IDEE manufacture various styles of mirror sunglasses to accommodate the needs of the customers. Mirror wraparound and aviator sunglasses are versatile ones and complement any face shape, especially those with prominent cheekbones or a sharp jaw line. The variations available in sunglasses style allows you to follow up the shape that fits your face and matches your lifestyle.
Applications of Mirror Sunglasses for Men and Women
Reflective mirror sunglasses are becoming a big summer trend accessory with fresh and stylish collections. Apart from its style, it protects your eyes from the intense heat of the Sun and the glare, as the mirror lenses cut down the penetration of the Sun. Check out the main applications of mirror sunglasses that have to be known before you team a pair of them.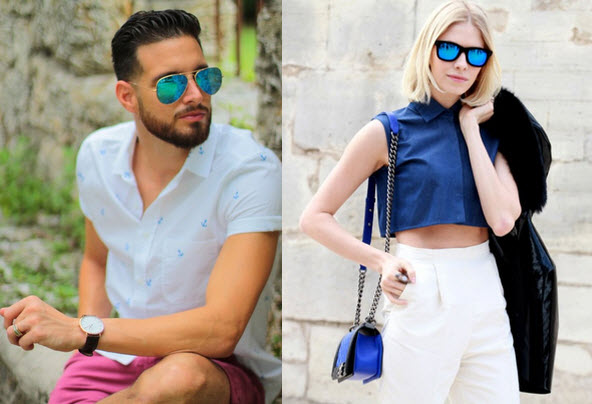 The Classic reflective coatings of mirror glasses consist of several layers of thickness, which are made of dielectric materials and metals such as nickel, titanium and chromium.
The dielectric layer formed during the designing process of these sunglasses comprise of essential oxide that is beneficial for finding out the reflective properties of the resulting mirror.
These sunglasses reduce the intense glare of light and UV radiations.
They protect the wearer's eyes from harmful rays of the hot blowing sun especially when they are outdoors and also shields from pollutants such as dust, smoke, sand and the wind.
The colour of the tint has no adverse effect on the mirror's ability of the sunglasses.
The mirror coatings of the glasses are helpful in reducing scratching and degradation, especially in certain environments like salt water.
Mirror sunglasses help people by hiding their eyes if they don't like others to peep into their mind.
These sunglasses are great option for eyes in summer and also for people who don sunglasses for regular use as they are quite chic and stylish.
In terms of style and beauty, these sunglasses act as the best recognizable accessories and make you more recognizable by enhancing your overall elegant look.
Mirror sunglasses are a perfect combination of the past and the present fashion trends. With eye-catching reflective lenses, mirrored sunglasses with vibrant blue hues are ideal to add flair to your look.  These celebrity trends are bold enough to show its attitude. Try to get the extra swag during this summer by picking a pair of blue mirror sunglasses online and bring out the star hidden in you.