Eyeglasses have been used primarily as an optical tool to correct vision and usually not meant to define a style statement. But nowadays, people have started looking at them as a fashion accessory along with power addition for vision enhancement. In order to get perfect vision, people should go for eye doctor prescribed eyeglasses that are genuine with durable and exclusive latest trendy styles. The frames for glasses help the wearers to be in style with perfect vision. Eyeglasses play an essential role in the life of people especially for those who have a vision disability. They give you crisp clear vision and make you feel comfortable to view every object. With the changing trends, many people also prefer to wear eyeglasses to show their appearance in a stylish manner. The present scenarios of eyeglasses are quite different from earlier days. So gain more knowledge about the eyeglasses online.
Transform Your Appearance with the Perfect Inspired Eyeglasses
Do you think eyeglasses can transform your entire appearance? Then you are right! The popular stars like Cate Blanchett, Anne Hathaway, Jennifer Aniston and Zoe Saldana have sported chic and stylish spectacles to show off their style and look. If a person has vision problems and has no option but to wear prescription glasses giving up their good looks just in order to enhance vision, well! The days are gone, and now the ways of living have changed. Today, people have the excellent choice to improve their eyesight and be stylish and modern too with branded eyeglasses. The present day manufacturers using advanced lens technology have created eyewear that emphasizes the high-quality of each product and renders a contemporary look with optimal and chic styles.
The designer collection of eyeglasses is made from awesome fine quality materials such as shell, titanium and metal for the protection of your precious eyes. For better safety glasses, sturdy plastic such as polycarbonate fabrications adds an advantage to the lens and frames. If you're allergic to certain materials, then you can opt for hypoallergenic materials like stainless steel or titanium made eyeglasses that prevent severe skin infections and allergies. All popular brands that are lustrously coloured and classy such as Ray-Ban, Oakley, Tommy Hilfiger, IDEE, Fabula and many others can be chosen to flaunt your style as well as improve standard vision. New eyeglass frame types like rimless frames have become more popular in recent years as an innovative theme to elaborate the fashion designs. You can mix and match your frames in the same way as you opt for shoes, bags, watches and many more with different hues and styles that match your personality.
Fashionable Eyeglasses with Vision Enhancement of All Brands
Usually, eyeglass brands play a crucial role in the present modern fashion world, and right from celebrities to the common folk are probably aware of what they sport and how they look in the public. With the increasing consciousness about style and vision, many people have started to use branded eyeglasses for making a realistic style statement. Various specs brand manufacturers are coming up with new range of frames for glasses in latest style, design, size, shape and colour to strengthen the fashion of the modern youth and to meet the demands of people. As a result, they are coming up with fashionable eyeglasses for all ranges of people. To ensure absolute comfort, durability and flexibility along with style, it is best to choose branded eyeglasses that ensure high performance and vision improvement.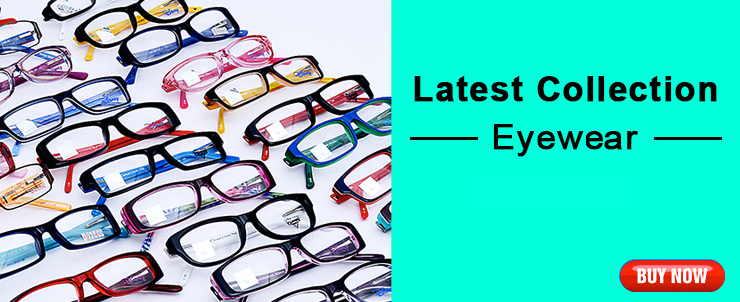 As eyes are very delicate organs, it is worthy to invest in quality products that might be a bit more expensive than regular ones. The high-quality and scientifically proven lens and frames of the branded glasses provide complete protection to your eyes along with perfect vision clarity.  Modern men and women like to sport funky styles and vibrant colours that are available with eyeglasses frames in different latest designs right from retro styles of cat-eye, rectangular and round to naturally cool aviators, wayfarers and oval frames. The fantastic and fashionable eyeglasses not only beautify the look of the person but also give them utmost comfort and lucidity. Regular eye check-up is the best way to keep eye problems and diseases at bay. Regular eye check-ups and follow ups by an eye care specialist helps you get rid of eye problems, and you can easily enhance your vision with style glasses.
If you wear eyeglasses regularly for vision correction, then do not get disappointed. You can turn your eyewear accessory into your most noticeable style statement rather than getting bored with regular styles and designs. You can choose latest designer glasses that give you classy look whether you sport them at the workplace or casually. Buy eyeglasses online and add charm to your fabulous personality!
Iamge Credits: specsbybauer.com