Nowadays, most people are pressed for time and therefore, like to prefer the hassle free contact lenses from Bausch and Lomb brand rather than glasses. The Bausch and Lomb contact lenses are fashionable, colored and are designed to fit all types of eyes without any adverse effect. The creation of the Soflens 59 contacts are done based on the recent fashion trends of the modern youth and is the latest version of the popular Soflens Comfort lenses from Bausch and Lomb brand, which is designed following advanced Unfit Technology. The Soflens brand is renowned as the best contact lenses manufacturers all around the world.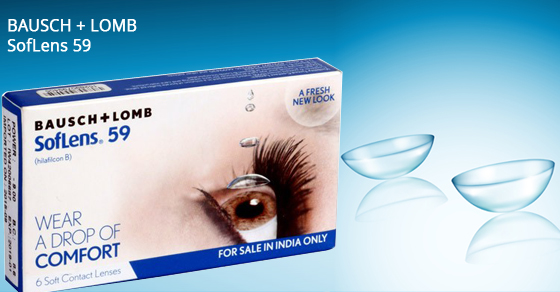 The Soflens 59 contact lenses are made from a protein resistant material called Hilafilcon B Polymer that makes the wearers more comfortable, ensuring accuracy, visual acuity and efficient performance in protecting their eyes. Many people get engaged in different tasks such as working on the computer, in which they keep their eyes fixed on the screen for an extended period. In such case, Soflens 59 contact lenses act as an excellent solution to get relief from eye strain. You can wear them for several hours at a stretch as they are monthly disposable contact lenses. Here is an article where you can find a lot of information about Soflens 59 contact lenses.
Main Features and Benefits of Bausch and Lomb SofLens59 Contact Lenses
The Bausch and Lomb Soflens 59 contact lens is a soft hydrophilic contact lens that is obtained as a spherical lens and tinted with Reactive Blue Dye-246.  These contact lenses have functional features and benefits that help the wearers to achieve 100% vision clarity.
Protein Resistance: Hilafilcon B polymer resists protein and prevents the buildup of deposits on the surface of the lenses, which in turn ensures fresh, clear and comfortable vision throughout the day.
Clear Vision: Soflens 59 contact lenses provide crisp and clear vision, longevity, and excellent visibility even in low light conditions. These lenses provide ultimate vision especially at night time by reducing the appearance of glares, halos, and blurriness.
The action of Soflens 59: The Bausch and Lomb Soflens 59 contact lens when placed on your cornea, acts as a refracting medium to focus exact light rays on the retina.
Oxygen Permeability: These lenses have a high water content of 59%. People who have dry eyes can feel fresh even when wearing the lenses for the entire day. The surface of the lens is re-moistened with every blink of the eye. The high water content enables oxygen to reach the eye quickly and, therefore, enhances good oxygen permeability.
Usage and Care: It is a time-tested lens product that is very easy to handle and care. It provides maximum comfort when you use them for prolonged periods. These are available in a highly cost effective package.
Combined Edge Profile: Comfort Tangent and Asymmetric Tapered Edge profile are the two primary features responsible for the exceptional comfort of Soflens 59 contact lenses. Equalized mass distribution allows for smooth interaction at the lens lid interface and the lens cornea.
Insertion and Removal of Bausch and Lomb Contact Lenses
The unique design of contact lenses makes the insertion and removal process extremely easy and comfortable. Check out these few steps required while inserting and removing your contact lenses.
Insertion Method
Wash your hands with mild soap before handling your Soflens contact lenses.
Shake the lens case to loosen the lens if it gets stuck and tilt the lens case slightly.
With the help of your ring finger, gently slide the lens out and put some lens solution in the bowl of your left palm. Later place your lens in the solution such as Bio true multipurpose solution.
Always keep the ring finger of your right palm dry and place the lens at the finger tip.
Adjust the thumb and index finger of your left hand to your eyelids and cup them by pulling up your upper eyelid with your index finger and pull down the lower eyelid with your thumb.
Now position the lens in your eye and look either upward or forward for better adjustment.
Close your eyes gently and roll them to help the lens settle and take a perfect shape.
Open and blink your eyes to have clear vision.
Wash your hands with mild soap before you remove your lens from the eyes.
It is preferable to remove the lenses in front of a sink.
Using your index finger, gently pull down the lower eyelid while you look in the upward direction and with the other index finger move the lens slightly on the white part of your eye.
Gently and softly, pinch the lens together using your index and the thumb and lift it off the eye.
Place your lens in the lens case carefully and fix the cap.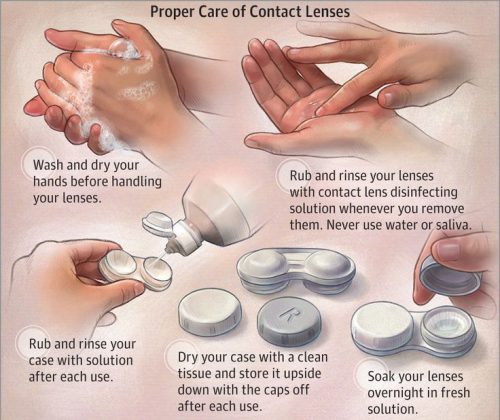 Soflens 59 contact lenses are monthly contact lenses that are available in convenient boxes of 6; each lens can be placed in Bausch and Lomb Contact Lens Multipurpose Solutions like Bio true multipurpose solution and Renu fresh buffered saline solutions. Hope this article has been helpful in making you aware about the benefits, insertion and removal process of soflens contacts.  You can buy Bausch and Lomb Contact Lenses online in India at an affordable price easily!