Have you ever thought of the best graceful and elegant eyewear accessories? For fashion savvy men and women, there are enormous collections of stylish eyeglasses from the top brands such as Tommy Hilfiger. This name stands as a benchmark of fashion and style and exudes confidence and perfectly complements the wearer's personalized style and appearance. With a lot of effort, hard work and vivid passion in fashion, Tommy Hilfiger had come up with its first class signature collection in 1985. Today, the brand Tommy Hilfiger has reached the peak of eyewear fashion industry and has lined up the level of high-end brands of the globe. Tommy Hilfiger eyeglasses resemble the definition of classic and elegant eyewear accessory, which reflects a charming look and transforms the entire appearance of every wearer. Here is a right path for passionate people who desire to wear eyeglasses with both style and vision combination.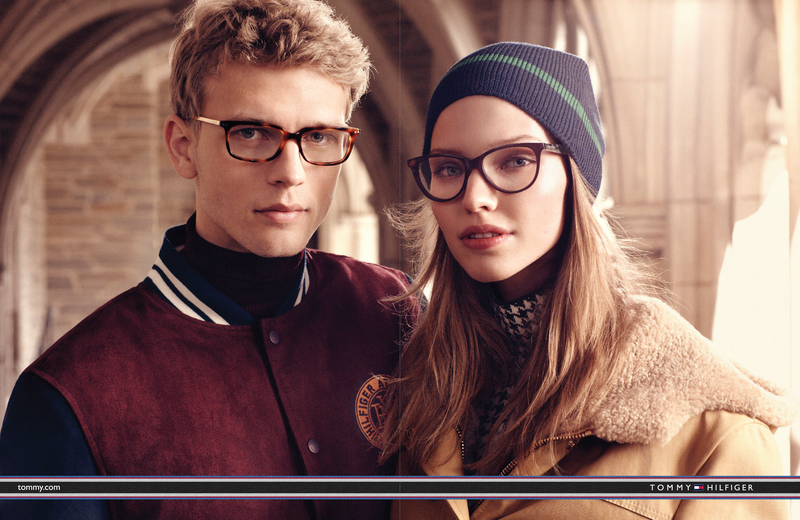 Tommy Hilfiger Eyeglasses – Classic Style and Vision Accessory
The Tommy Hilfiger Company has completed 29 years successfully and has been designated as the most recognized fashion brand among the modern youth. The iconic models of Tommy Hilfiger are elegantly transformed into the brand's eyewear range of collection. Tommy Hilfiger consists of full chic corporate collections of classic treasure eyeglasses that make it a perfect choice for most of the wearer. This brand is well-known for the fabulous designs and high-quality products that include fashion eyewear, designer eyewear, sports eyewear and protective eyewear. These glasses offer you timeless styling access and matching quality for your personality. The versatile and universal designs of Tommy Hilfiger eyeglasses make them perfectly suitable for both men and women. They are manufactured based on the latest trend set of the runway.  

Tommy Hilfiger spectacle frames are the perfect ones not only for correcting vision, but also for enhancing the looks and creating a variant style signature. Tommy Hilfiger eyeglasses reflect an incredible sense of noteworthy style, quality, price, models and customer contentment all across the globe and reaches the demand of the people for the brand's cool, classic and western look of style pattern. A branded eyewear is significantly recommended for every wearer to get the maximum enhancement of crisp, clear vision.
The spectacle frames are suitable for both young and middle-aged wearers, especially for those who are more interested to have a corporate and classy stylish look and perfectly complement the wearer's personal style and appearance. These frames provide a cool and relaxed appearance whenever you sport them. The sophisticated style frames of these eyeglasses deliver perfect glam to your eyes and the high-quality optical lenses render you an extraordinary optic vision experience. These eyeglasses for men and women come in a wide range of contemporary and classic designs, styles, shapes and attractive colors that makes the youth prefer this eyewear brand.
Important Features of Tommy Hilfiger Eyeglasses Online
The iconic designs of Tommy Hilfiger are exclusively transformed into the brand's high-end eyewear range of collections. There is a huge online market for Tommy fashion glasses. Here are the few noteworthy features of these eyeglasses that focus on the stylish vision of the people.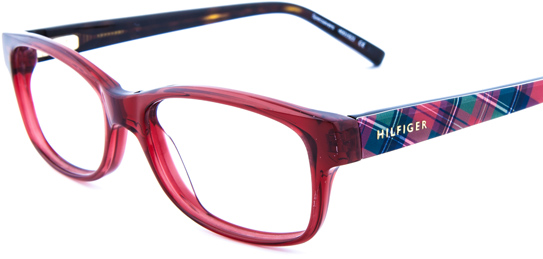 The unique and classy designs of the Tommy Hilfiger spectacles come in various shapes such as oval, rectangular, round and wayfarer styles along with smart half rim and rimless frames that suits all face types.
These eyeglasses block the UV rays of the Sun from reaching your eyes and provide you 100% UVA and UVB protection.
The intense glare from the screen of digital systems can damage vision and may cause stress and that in turn may result in complete blindness. The regular use of Tommy Hilfiger glasses protect you from the glare of high-intensity light sources.
The scratch resistant coating property on the lenses provides you protection from any unwanted abrasions or scratches.
The spring hinges of these eyeglasses reduces pressure on the back of the ears and the nose and provides utmost comfort.
The high-quality metal and acetate frames of these glasses ensure complete durability and long-lasting performance that are suitable for a fast paced lifestyle. The quality lenses are made of polycarbonate material and come in latest eye-catching color
Both genders can don the versatile and universal unisex designs of the Tommy Hilfiger frame styles that include aviator, wayfarer and oversized.
The spectacle frames come in a wide range of attractive and lively colour hues such as purple, pink, red and blue along with classic brown, black and grey that are ideal for all types of attires.
Stay cool in the latest shades of Tommy Hilfiger with perfect stylish vision. The wide collection of eyeglasses features you the best-quality inspired classic models that add a touch of elegance and chic. Lightweight, comfort and vision clarity of Tommy Hilfiger eyeglasses surely fits your unique style and pampers you to feel like a celebrity. Go ahead and buy eyeglasses online and reflect your vision style at affordable prices!
Image Credits: d23vdc8tnz9rrh.cloudfront.net, oculum.com.br, image.thefashionisto.com