As more people discover advantages of contact lenses, and with the persistence of global need of vision care, the use of this form of vision correction is enhancing around the world. There are now in excess of 100 million contact lens wearers globally. Contact lens can correct almost all eyesight problems including hyperopia (long-sightedness), myopia (short-sightedness), presbyopia (age-related reading problem) and astigmatism. Even with many recent advances in spectacle lens technology and the rising popularity of surgical interventions like laser eye corrections, the use of contact lens remains a safe, effective and inexpensive way of achieving comfortable and clear vision for many people.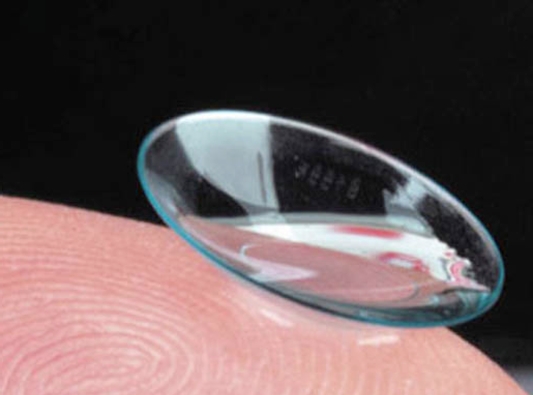 Bifocal Contact Lenses Have Brought Revolution in Visual Correction
Contact lenses offer many benefits over spectacle wear and refractive surgery. Compared to spectacles, contact lenses enable more ease of wear during leisure activities and sports by providing a wider field of view, less susceptibility to fogging, less chance of dislodgement, slipping off the face due to dirt and sweating. Contact lenses allow sunglasses and protective eyewear to be worn on top without any hassle. In addition to obvious benefits of offering natural peripheral vision, in many cases, contact lenses can offer better visual acuity. It has been commonly found that optimal vision correction offered by contact lens can improve performance in some elite athletes.
Bifocal glasses usually have a straight or visible line that defines the separation of the top area that is for distance vision and the bottom area reserved for reading. There are round designs available; however, the straight top bifocal lens is most popular. The trifocal lenses have three focal distances. The third focal distance, placed in the middle of the lens, is used for viewing intermediate distances that are not entirely covered by the top or bottom sections.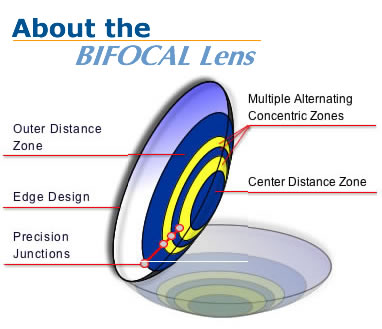 Bifocal contact lenses are designed to provide good vision to individuals who have a condition called presbyopia. The main sign that one is developing presbyopia is that you need to hold menus, newspapers and other reading materials farther from your eyes in order to see it clearly.
Bifocal contact lenses come in both rigid gas permeable materials and soft materials. They are available as hybrid contact lenses. Some can be worn on the disposable basis. That means you have the convenience of throwing the lenses out at specified intervals and replacing them with fresh, new lenses. Many lens manufacturers offer bifocal contact lenses mainly made of silicone hydrogel material. These lenses allow significantly more oxygen to reach the cornea than conventional soft lenses for greater wearing comfort, and are available for both extended wear and daily wear.
All About Acuvue Contact Lenses
It is the best time to switch to hassle-free viewing with Acuvue contact lens. Eye lenses have become the man Friday among the fashion-savvy men and women who do not like to be troubled by irritation of wearing spectacles. A leading brand name in healthcare, Johnson & Johnson lenses has brought for you the superior range of disposable and soft Acuvue contact lenses which not only provide you unparalleled vision clarity and comfort, but also help to correct your vision problems.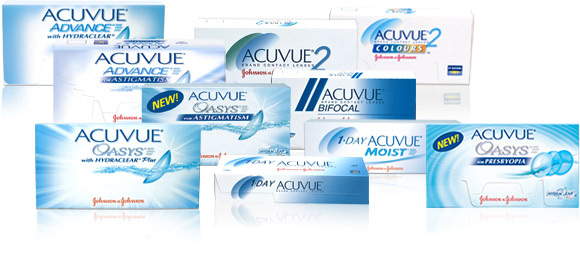 Supreme Vision Quality and Comfort Ensured
Pioneer of the world's first disposable contact lenses, Acuvue contact lens offers you sharp and clear vision. Hygiene and comfort are the two most important criteria for all eye lenses from Acuvue. So whether you are running errands or simply out running, Acuvue contact lens keeps you at ease always.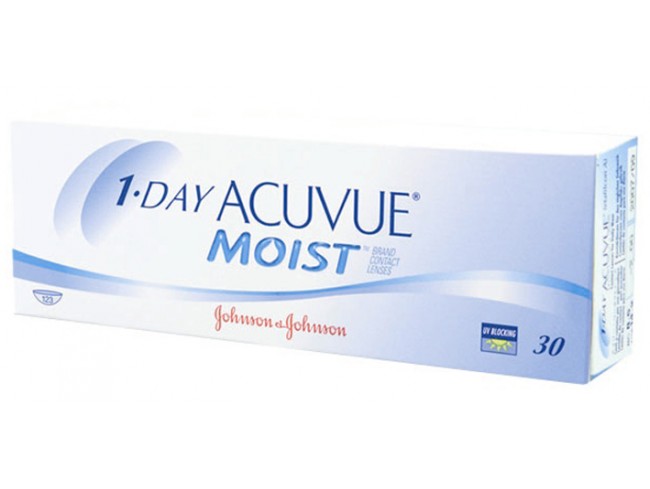 These eye lenses are made from Etafilicon A that is a flexible and soft material retaining water to allow oxygen through lenses.
Acuvue contact lens uses revolutionary wetting technologies like LACERON and HYDRACLEAR, HYDRACLEAR Plus that are either part of lens material or permanently embedded into the lenses to keep your eyes comfortable and moist day long.
Unlike conventional eye lenses, Acuvue contact lenses effectively block harmful UV rays and protect your precious eyes.
Acuvue contact lenses are mainly built with Accelerated Stabilization Design (ASD) which has four stability zones instead of the one or two found in the conventional eye lenses. It offers you crisp vision and keeps lenses in place even when you blink
Contact lenses from Acuvue are available in two weekly disposable lenses, daily disposable, and monthly disposable lenses options. So, carefully choose your lenses depending on the frequency of your use.
Many studies have shown that adolescents and children significantly benefit from use of contact lenses when compared to spectacle wearers, by remarkably improving self-esteem and vision related quality of life. It has been found that children aged 12 or younger are comparable to those who were fitted with lenses during their teenage in terms of satisfaction, compliance and ease of fit. You can easily buy contact lenses online from online stores like Lenspick at a reasonable price.