Now-a-days everyone looks for a new trendy design that is blended with classy style and fashion. A popular brand of sunglasses and eyeglasses named Ray-Ban was first founded in 1937 by American company Bausch and Lomb. Generally this brand is best known for their Wayfarer and Aviator Styles of Sunglasses. The original Bausch and Lomb designs are now marketed as Ray-Ban Aviators and Wayfarers. Ray Ban Polarized Sunglasses provided with anti-glare power is now available in the market and are known ideal for long drives. They reflect stylish look as well as offers maximum comfort to the eyes. Now Ray-Ban in India with new collection is ready to meet any challenge and maintain its high status level across the market. You can choose a wide range of new different models and brands of Ray-Ban Sunglasses that suits best to your facial look.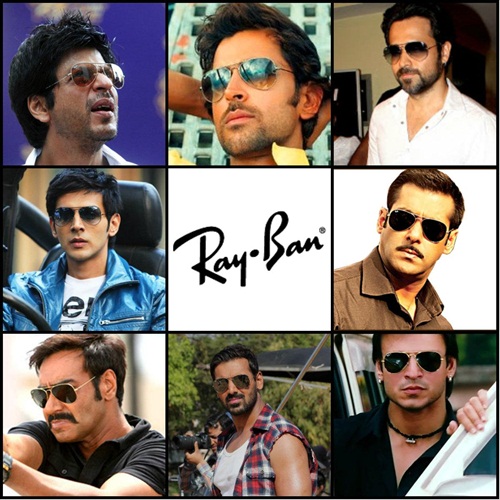 Various New Models of Ray-Ban Sunglasses
Ray-Ban introduces the latest models of Sunglasses in the market all over India, provided with high-quality, best clarity of natural vision and power enhancement. These new models are available for both Men and Women at best affordable price ranges. A wide range of collections can be chosen from online. Here is the list of New Ray Ban Sunglasses released in 2015.
1. Aviator Classic Sunglasses
Ray Ban Aviator Sunglasses Protects your eyes from the glare and blazing of the Sun at higher altitude places.
It is an excellent iconic model that has enormous popularity over the decades.
Ray-Ban Aviator Classic sunglasses were particularly designed for U.S. aviators in 1937. But now it is available in India with latest trendy designs.
These can be obtained with a classic gold frame; through a variety of lens colors such as crystal brown, crystal green, G-15 polarized and more that offers optimum visual clarity and 100% UV protection.
An aviator Classic sunglass combines the great aviator styling with special quality, performance and comfort.
The large lenses are not flat but slightly convex. The design attempts to cover the entire range of the human eye and prevent as much light as possible from entering the eye from any angle.
So grab the latest collections of Aviator Classic Sunglasses that are released newly in the market.
2. New Wayfarer Sunglasses
Ray Ban Wayfarers Sunglasses were one of the first models that are designed and took advantage of New Plastic Molding Technology.
Their design making actually marked as a water-shed in Sunglasses history. Even though their popularity declined drastically in the 1970's and gradually raised to high standards from 1980's.
These can be chosen from a number of different styles available in the market with new trend sets ranging from dark lenses, rose-tinted lenses, and gradient lenses to a number of other looks.
The most common variation of lenses for the Ray-Ban Wayfarer sunglasses model is actually to wear them as corrective vision glasses rather than sunglasses.
At present in the year 2015, these Wayfarer Sunglasses are made stylish and can be best used for vision correction.
Purchase this Wayfarer Sunglasses available in the market right now.
 3. Aviator Mirror and Flash Sunglasses
Iconic model of Ray-Ban Aviator Sunglasses were designed to protect from high altitude glare of the Sun.
These Sunglasses plays dual role in which it provides extra protection from light transmission and also gives shining on the other side.
The best Ray-Ban Aviator Mirror and Flash Sunglasses is RB3025 sunglasses available in a variety of frame colors – photo yellow, crystal gold, green mirror silver, crystal green mirror and flash lenses are reinvented the standards of the market with its unique teardrop shape with flash lens combination.
Now mirror and reflect your style with Ray-Ban Aviator Mirror and Flash sunglasses available in the market in a wide range of collections.
 4. Clubmaster Classic Sunglasses
Ray-Ban Clubmaster Classic sunglasses are timeless and retro model that have been launched newly in the market with wide range of collections. These can be obtained in variety of colors and shapes.
The unmistakable designs of the Clubmaster Classic Sunglasses are being worn by cultural intellectuals who prefer a quick change in their lifestyle fashions.
Clubmaster Classic Light Ray Sunglasses has minimalistic design that blends laser cut titanium and smooth acetate in a high quality finish for an innovative style.
Choose this best iconic Clubmaster Classic sunglasses designed in black or brown frames with a crystal green lens making. You will have a great look with these stylish Sunglasses.
 5. Rectangular and Round Ray Ban Sunglasses
Ray Ban Sunglasses for Men and Women are available in different shapes and colors, in which rectangular and round stylish sunglasses are mostly preferred by the people.
The frames of these sunglasses are also specially designed with different colors and sizes that best suits to your facial look.
Choose the stylish and latest models of rectangular and round ray ban sunglasses online and experience a great look.
New innovative ideas have been focused to launch different new Ray Ban Sunglasses in the market at present with different styles and models. Aviator and Wayfarer with different shapes like rectangular, round are released into the market to meet the demands of the people. Buy the new Ray Ban Sunglasses to make new trend of fashion, available at all online stores.
Image Credits: aviatorstylesunglasses.homestead.com, imgs.inkfrog.com